Supporters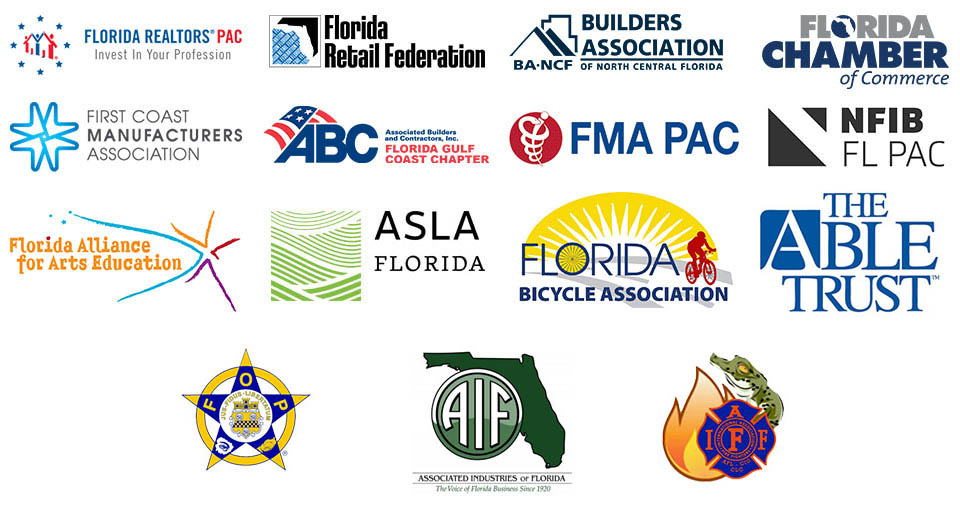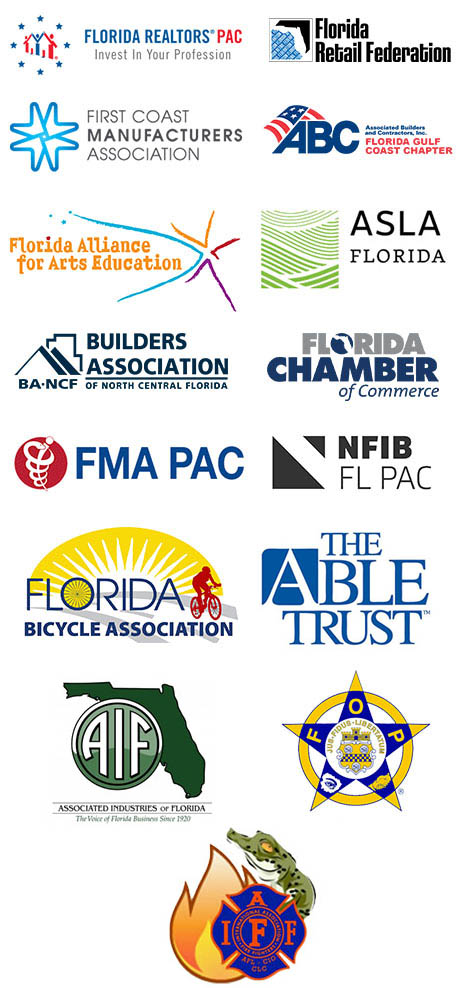 Awards
Florida Chamber of Commerce 2021 Honor Roll Award
Champion of Economic Freedom Award from Americans For Prosperity
2021 Distinguished Advocate Award from Florida Chamber of Commerce
Conservative Excellence Award from The American Conservative Union Foundation
Legislator of the Year Award from Florida Network of Youth and Family Services
Champion of Economic Freedom Award from Americans For Prosperity
2018 Believing in Girls Award from PACE
2018 Elected Official Champion Award from the Florida Bicycle Association
Florida Chamber's Distinguished Advocate Award
Passed legislation that would shield injured workers' private personal information from trial lawyers in workers' comp cases.
Champion for Business Award from Associated Industries of Florida
Champion for Agriculture Award from the Florida Farm Bureau
Believing in Girls Award from the Peace Center for Girls, Alachua
Friend of the Sheriff Award from the Florida Sheriffs Association
In appreciation for supporting drug control legislation to address Florida's heroin/Fentanyl epidemic. During the last day of session, Senator Perry decided to vote in approving the motion to recede from a problematic amendment that would have caused HB 477 to fail. Sheriffs appreciate your dedication to ensuring this important bill passed during the 2017 session.
Elected Official Leadership Award from the The Florida Alliance for Arts Education
The Florida Alliance for Arts Education recognizes leaders who work in various capacities to ensure that arts education is available in all Florida schools and communities and that arts education is of the highest quality. Leadership in the areas of education, administration, and community are recognized.
Public Leader of the Year from the Gainesville Area Chamber of Commerce
For Outstanding Leadership
Community Award from Meridian
For continuing to support Meridian's Commitment to Hope, Recovery, and Wellness
Community Partner Award from CDS Family & Behavioral Health Services, Inc.
Honorary Guardian Ad Litem from Florida Guardian Ad Litem
Associate of the Year from the Builders Association of North Central Florida
Defender of Liberty from American Conservative Union
Defender of Liberty from American Conservative Union
Legislator of the Year from Able Trust
Accomplishments
Memberships
North Central Florida Builders Association, member
Florida Roofing and Sheet Metal Association, member
Gainesville Chamber of Commerce, past board member
Boys and Girls Club, past board member
Salvation Army
Habitat for Humanity
Florida First Housing Board of Directors
Gainesville Quarterback Club
Other Accomplishments
A+ on the Foundation for Florida's Future Education Report Card
Active with Women's Club for over 20 Years
2017 Keynote Speaker, North Marion High School Baccalaureate
2015 Commencement Speaker, Saint Leo University
2015 Commencement Speaker, Santa Fe College - Institute of Public Safety BRC Class 129
The Cotton Club Museum and Cultural Center recognizes Keith Perry's Vision, Commitment, and Leadership - April 24, 2008
Cofounder, House of Hope
Past President, House of Hope
Legislative Honor Roll, Florida Chamber of Commerce Affiliations